Isn't this one a doozy. When I first saw this listing, I was sure it was a freestanding table.
Turns out, it just has the features and sizes of one, but it's actually a very well designed tabletop.
What's so great about it?
Loads of stuff.
First of all, you get the playing surface size of a regular freestanding table, which automatically means more variation in terms of game strategy.
Not only that,
But you also get the stability and steadiness of an arcade behemoth, all thanks to the pedestal legs used to stick it on a regular table.
Construction wise…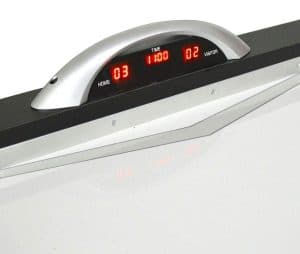 ...there's quite some technical gimmicks to take in from the product description. You get an UL-certified heavy-duty blower, powered by a regular adapter.
Moreover, the table sports a CARB certified laminate MDF playing surface, so you can be completely sure there'll be an even and stable airflow.
The rink walls are nothing to be ashamed of, either.
They're made out of high-grade aluminum, so you know you'll get a good rebound.
On top of everything…
…you also get a 5-year warranty. Granted, it's only for materials, but it's easily above everything else on the market.
Want to talk design?
This product excels in that aspect as well.
You get a futuristic looking playing surface, with curved markings. Adding to a great look, you also get a smoothly designed railing and subtle yet strong legs.
All in a great black and white palette of colors.
So what's the problem?
First of all, while the 5 year warranty definitely sounds good, you'll have a hard time finding people to honor it. Customer support is virtually nonexistent.
On a different note…
… the laminate MDF makes for an attractive playing surface but gets scratched easily. This is unaesthetic, but more importantly, it could lead to bad sliding of the puck.
To wrap it up,
The four strikers that come with the table are extremely awkward to use. They have a unique design, but that's not necessarily good. If you're familiar with the regular pushers, you may need to also invest in a striker set.
Features:
7ft tabletop air hockey table
Electronic scoring
Plug-in motor