Competitive or friendly matches? Measurements to the front of the green or flag lock-ins?
The NX7 seems to have it all, and it's definitely a top spot contender. You get great quality for your dollar, but does this product have everything to win in the rangefinder race?
Let's start with the good stuff…
...and praise this product's technology. You have an accurate slope mode that can be deactivated for tournament play, which is awesome for the player that is or wants to go pro.
A nice twist to the slope mode is the "Play as" mode, which lets you select your status in the course, making club selection a whole lot easier.
In terms of setting your sights…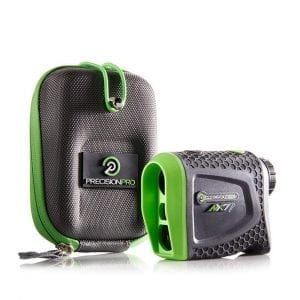 You get a nice pin-sensor technology, vibrating when the moment is right to get your stance on and strike.
On top of that, their cleverly named TAG (Target Acquisition Technology) helps you lock-in to any target, all for clear and consistent numbers, even if your hand can get shaky.
If you want to zoom in, you can easily do so with their 6x magnification, which we found works just as advertised.
But it gets better.
All of these are packed in a small, compact device that you can easily carry around - so extra points for the "light travel bag" golfer. If you want to better grip this product's dimensions, here's an unboxing of the device.
The small size doesn't come for free, however…
...so let's get into the bad stuff. Condensed hardware can sometimes mean less quality, and this is somehow the case here.
The big problem we have with the device is the maximum distance - only 400 yards. This shouldn't be a huge detriment during a game, but if you're dealing with a longer, 5 par hole, you won't get all the numbers right off the tee.
If that doesn't bother you…
...you might still be worried by this product's flag lock-in. Yes, the TAG system works well, but if the flag is not completely visible, the device will have a hard time locking into it.
That's definitely something you want to avoid, regardless of your other preferences.
To top it all,
There's a lot of lemons being shipped that don't provide accurate measurements to distances of over 200 yards. That's a real deal-breaker, but if you're willing to take the risk - this product is still fairly good.
Features
Laser Rangefinder
Slope mode
Pin-sensor tech
6x magnification