The Power Products Retractable Power Hose Reel has a unique slow-return, spring-loaded retraction system as well as a nozzle protector on the end of the hose. These caring touches can prevent the hose from damaging itself and other objects (or hurt people) when retracting. No more jumping out of the way because of 50'-long, 5/8"-diameter hose whipping back to its case!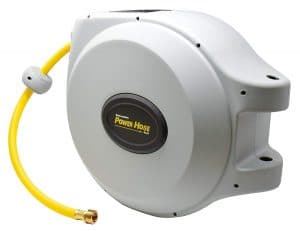 We really liked (as did the focus group) that the garden hose reel's 180° swiveling action that allows you to turn and extend the garden hose in different directions for a better reach. An interesting fact that we learned is that the mounting brackets can go on the wall or ceiling.
Tougher than others:
Users also appreciated the sturdy quality, strong twist collar, and brass fittings of the Power Products Retractable Power Hose Reel kit. Constructed of three layers, this hybrid hose's 500 maximum PSI is an average of 50% more than competitors' PSI ratings. It can handle 500 PSI bursts!
Finally, the Power Products Retractable Power Hose Reel is easily removed for storage and portability.
Features
Includes 50'-long 5/8"-diameter hose
Includes nozzle protector
Dimensions: 19.5" x 10" x 17"
Weight: 23.4 pounds
Maximum burst strength: 500 PSI (pounds per square inch)
Mounting hardware included