The Cyclone 300 is a great evaporative cooler if you live in a hot and dry climate. This unit is made by Portacool, a reputable company which is known for their high-quality items ranging from HVAC products to industrial, commercial, and residential items. Before purchasing, check our Buyer's Guide section to see if an evaporative cooler will work in your climate!
The Cyclone 3000 comes in a durable polyethylene housing which is made to be in one piece. The housing is resistant to rust and cannot leak. The only downside is that many users noted that the housing gives the unit an unappealing look. On the flip side, it's very easy to clean.
The pump and motor function at an energy-efficient 5.6 amps. The Cyclone 3000 requires almost no maintenance, and it's amazing at cooling spaces – it can lower the temperature by as much as 30 degrees.
Here's where it gets good: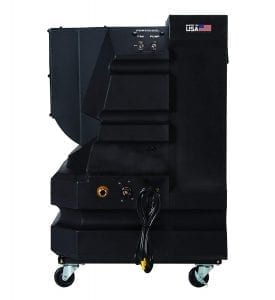 The Cyclone 3000 features a convenient water level sight tube, which lets you know at what level the water is. It also has a sump drain and a water hose connection. This means that the unit can be connected to a water supply line, so it can have a longer running time.
Apart from the water connection, the unit also has a water tank so you can fill it up manually. The tank has a 16-gallon capacity, which means the Cyclone 3000 also has a long running time even if it's not hooked up to a water supply line.
This unit is great for medium to large spaces, as it has a cooling capacity of 700 square feet. It's not suitable for smaller spaces, partly because it's quite large in size. Also, the Cyclone 3000 functions quite well for outdoor cooling, and the durable caster wheels on this product enable you to transport and move it around easily, despite its size.
Now get this:
If you want your new evaporative cooler to be safe and protected, this Portacool vinyl cover fits all Portacool Cyclone models, including this one. The cover is made of thick black vinyl, which will keep your unit clean and protected when you're not using it.
The cover also works great in all weather. It's water resistant and it covers the unit snugly, so there's no risk of wind blowing the cover away. It covers the whole unit – right down to the wheels. Our research showed that many users are extremely happy with this cover.
The Cyclone 3000 also features high-quality evaporative pads - KUUL Pads with media, which means it can easily use tap water and produce air that's 10 to 25 degrees cooler.
When it comes to energy efficiency, this unit beats most others out there. It uses only 120 volts of power, which is less than half of what other, smaller units tend to use. Also, it doesn't use refrigerant gas for cooling, so it's very friendly to the environment.
When doing our research, we've found that this is one of the few units out there without an oscillating feature. This means that air just blows straight out, and although it can be adjusted to blow more up or more down, it cannot be rotated.
Another downside to the Cyclone 300 is that many users complain about problems when adjusting the water valve. But overall, this unit is a decent choice when looking to be energy efficient and cool medium to large spaces.
Features
Dimensions: 38 x 30 x 29 inches
Cooling capacity: 700 square ft.
Tank capacity: 16 gallons
¾-inch water hose connection
Fan + evaporative cooler
2 cooling speeds
Both indoor and outdoor use
Features a water valve
Molded polyethylene housing