A perfect compromise of softness and firmness, the Plush High Rise Air Mattress by Fox is "extremely comfortable." Highly satisfied sleepers include:
a pregnant woman who slumbered on it three nights in a row.
an 86-year-old who snoozed on it every night for a week.
a 6'2" man with back problems who slept on it nightly for two weeks.
an owner who used it every night for almost two weeks.
a person who substituted it for a regular, full-time bed for a year.
Some reviewers find it a bit too firm and requiring a padded topper. One joker quipped that its perfect for relatives so they don't get "too comfortable" and stay longer.
Not a bad idea!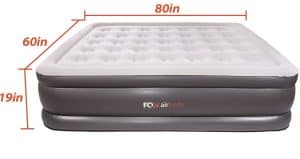 The height of the mattress gives it the appearance of a real bed. The Plush High Rise Air Mattress by Fox is long enough to accommodate tall people.
The upside
For the most part, this model's air retention is good. It has no to "very scant" air loss that requires only a few seconds of pumping to "top it off" once every week or month. We found reports of users:
keeping it inflated 12 days straight without adding air;
adding air only three times in four months (and perhaps because it was getting colder);
refilling it only two times in four months of nightly use;
The downside
Many owners complain about mounds in the middle and seam tears. In fact, one person's elbow broke through a bubble! Rips along the seam appeared between one three months. For another consumer, an enormous bulge formed at the bottom within six months and a seam opened up a few weeks later. Although customer service is responsive, customers feel the 90-day warranty period is too short.
The Plush High Rise Air Mattress by Fox is very convenient and quick to inflate (about five minutes) and deflate. The internal pump doesn't have an automatic shutoff that allows you to walk away during inflation.
Features
Dimensions: 76 x 41 x 18" (twin); 75" x 54" x 22" (full); 80" x 60" x 25" (queen)
Vinyl thickness: 0.60 mm
90-day warranty