There are a lot of reasons to adore this set of cues. Between the quality and the quantity, you I'll have a hard time finding a better value than this set of four or eight cues.
Let's look at the quality, first.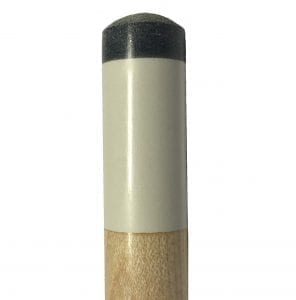 These cues are made from 100% North American hard rock maple. The construction from these materials also seems excellent.
This cue comes with a premium Elk Master tip which has an extremely soft rating of 66.8. This is the second softest cue on the market. You can expect a high degree of control and english, but a low level of power.
This cue is one inch longer than a standard one-piece, which puts it at the same length as a two-piece. If you're used to two pieces this could be a good thing. If you're not, you may notice reduced accuracy with a longer cue.
A high gloss finish is applied to these cues to prevent warping or chipping.
Quality with a low price tag.
This is our favorite value option for pool cues. Each cue in this set is manufactured with the same level of care and quality as many others on this list.
However, with this option, you'll be receiving 4 or 8 (depending on what you choose) for roughly the same price as one of the other cues on this list.
Each set comes with an assortment of weights.
This cue comes with a lifetime warranty. The ferrule is also covered by a separate lifetime warranty. No online warranty page is available.
Features
Four or eight cues
Linen protective ring
Ferrule warranty