If you're looking for a well-made cue without all the frills, this is an excellent choice. Players (the manufacturer) took their time with its construction.
This is a tough cue.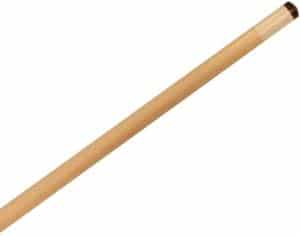 The grade-A hand selected maple is first cut to shape. The maple then turn-dried seven times to ensure It's entirely moisture free without using damaging treatments.
The cue is then coated in Players patented nelsonite wood stabilizer to protect it against atmospheric changes that might change the density of the cue.
A high-gloss super UV finish is then applied to protect against warping, chipping, and fading.
Lastly a special wax is applied to the shaft to ensure an excellent glide.
Finally a twice pressed linen wrap is added to the grip.
In addition to the durable construction, the special high-impact ferrule was a very welcome addition which comes with its own lifetime warranty against chipping and breakages.
The combination of the high-impact ferrule and solid construction makes this our favorite cue with regard to durability.
Here's the spec.
The cue comes in standard two-piece demnions, meaning It's 58 inches long and 13 mm in diameter. It comes in 18 to 21 ounces without half ounce options.
You may have a difficult time practicing your english with a 13 mm cue. However, if you can read this guide, you should already be pretty fluent. We aren't sure how you'd use a cue for that, anyway.It has a stainless steel joint which should protect against moisture and rusting.
The tip worries us. It comes with a Le Pro tips, which are known to vary in hardness a lot. It's a relatively hard tip, with an average rating of 88.2, however the consistency of this hardness is less than ideal.
Some Le Pro tips got into the mid 90s range--extremely hard.
Regardless of your particular tip, you should expect this tip to connect with a lot of power and reduced control. Though inconsistent, it should also be quite durable.
It comes with a lifetime warranty that includes warpages. No online documentation of this warranty was available.
Features
Careful construction
High-impact furrel
Two-piece with stainless steel joint
Twice pressed linen grip