You can get a lot for a relatively small price tag with this high-value product.
This is another affordable caster that makes use of the dual brake system, which Bestazy was a huge fan of.
It's also a featherweight at 5.7 ounces, which should give you a lot of casting energy on long fishing days. To get that total casting weight even further down, you may want to pair this reel with something like this lightweight rod.
Piscifun accomplishes this weight by using carbon material in the frame and other components. This is great for weight, but also for durability with regard to corrosion.
This lightweight makes the Phantom a great option for boat fishing, or especially kayak fishing. If that is something you are interested in consider some of these awesome inflatable kayaks!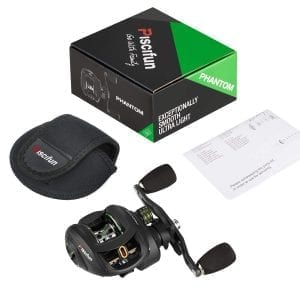 There are two sides to carbon construction, however.
Carbon won't hold up quite as well as metals to bumps and bangs.
But, as long as you treat this baitcaster well, it should last.
It has a relatively high 7.0:1 gear ratio.
The longer reel handle was a nice addition as it's a simple way to give you a little more torque and power to reel in heavier, stronger fish.
The 17-pound max drag pressure should also help out with more powerful fish.
This product has a one-year warranty for manufacturer defects and materials.
Features
Carbon fiber frame
Aluminum gears
Six stainless steel bearings