Pinkiou's Airbrush Makeup Set is yet another kit for those who aren't just into makeup. It has a single action airbrush with both a nozzle and a needle. Thanks to heat protection, its compressor never overheats. Since it has three different settings, you can control the pressure when applying makeup.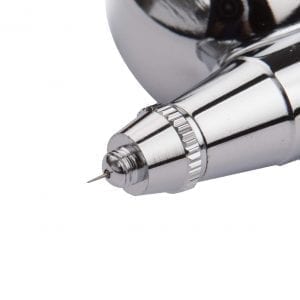 Want versatility?
You can use this airbrush with almost any water-based makeup, as well as tanning products, tattoo paints, and metallic paints. It's also appropriate for use with frosting, icing, and other cake decoration mixes.
We also liked:
The airbrush itself is both lightweight and easy to clean.
When it comes to downsides,
there are some things we didn't like about this airbrush makeup set. You have to buy makeup separately since it's not included in the package. Also, the airbrush vibrates and doesn't spray evenly.
Features
Single action airbrush
Compressor with heat protection
3 pressure settings
5-foot airbrush hose and holder
100-240V AC adapter