Shaped like a 'C', the PharMeDoc is a body pillow tailored and designed for pregnancy. They boast all-round support for your back, hips, knees, neck, and head.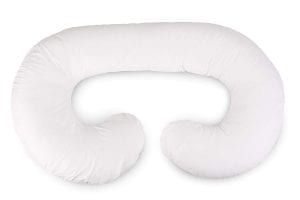 Due to the shape of the pillow, the biggest immediate benefit of this pillow is for those who often lack proper support when laying on their side. It provides all-round comfort, with a soft backrest, an arm to cuddle and hold while providing support to the head and neck. It also has great support for the baby bump.
While tailored for pregnancy, this pillow's shape also provides relief for those suffering from hip and back pain. In testing we found it to be very comfortable, and contoured to sleeping on the left side. It is particularly comfortable and helps with sleep for those who have poor posture or recovering from an injury.
In testing we found the pillow to be quite firm, almost to the standard of a memory foam pillow. It kept its shape after a few uses. Having said that, you must fluff the pillow every so often as you would a normal pillow to get maximum performance.
The outer cover is removable and washable, making it easy to clean. It is also hypoallergenic, allowing you to sleep without having a restless, allergy filled night.
Specifications
Lifetime warranty
7 pounds
8 x 11.4 x 5.9 inches
Washable cover
C Shaped pillow