This bathroom faucet lets you choose the finish, with options such as Tuscan Bronze, Rustic Bronze, or the classic Brushed Nickel. Besides the overall finish, the fixture also has a few decorative deckplates, perfect for a vintage look.
Even more,
It's really easy to set up, with only one mounting post. The place this product really shines, however, is in the inside. Besides the perfect pun in it's name, the signature "Pforever", technology uses state of the art disk valves, which Pfister says guarantee absolutely no leakage.
On the other hand,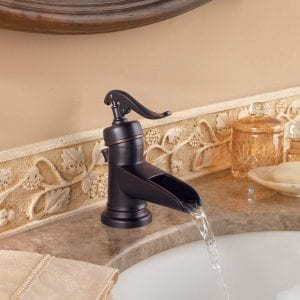 We noticed this product is quite hard to clean, especially the small "basin" right where the water flows. Moreover, if your sink hole is not exactly 2", you will have a bit of a hard time setting it up.
In our research we found this product performs really well. Our experts praised the Pforever technology, and we can stand behind the rest of the advertised technical benefits.
Something we really want to praise is the design. Whoever at Pfister designed this faucet did a great job--it's really adaptable. The aesthetic is classic, slightly embellished, but overall simple. Add to that the finish variety, and you get a product that you can assort with a lot of bathroom decorations.
In our focus group, most people loved the Ashfield Single Control, but there was one person that complained. He liked the product, but had a hard time installing it due to some technical issues, so he called Pfister's customer support. He maintains this company has a bad customer care service, but that belief was not necessarily echoed anywhere else we checked.
All in all,
This product does it's job, both technically and visually, but there's other stuff we'd like to mention. If you want the fixtures in your bathroom to match, you can also get Pfister's assorted Toilet Paper Holder, available here.
For those really considering buying this piece, there's also a cool preview on the fixture, available over here.
Features
Beautiful design
Pforever ceramic disc valve
1 hole mount