The Petsfit Rabbit Hutch, Bunny Cage for Indoor Use looks like an outdoor pet home but makes an "adorable", "cute" piece of furniture.
In fact, one consumer says that this hutch is so lovely that she doesn't feel she has to move out of sight when guests visit.
But how do the occupants feel?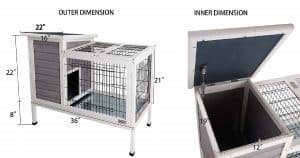 Apparent guinea pigs love this dwelling too. We read reports of guinea pigs popcorning inside the Petsfit Rabbit Hutch, Bunny Cage for Indoor Use.
One owner says his guinea pig behaves like this unit is his kingdom… and why not?
The solid wood hutch for privacy connects to a patio-like cage for fresh air and sights.
The only disadvantage of the hutch is that guinea pigs like to chew on wood!
Good news
This unit is easy to install. With a large side door as well as a hinged lid that opens up half the cage's roof, this unit also offers plenty of accessibility for reaching the pet as well as cleaning.
Not a deal-breaker
While cleaning is fairly straightforward, several users are frustrated by the pull-out tray. When sliding it out, they find that the bedding jams under the cage and then overflows onto the floor.
Also, the lack of side walls doesn't prevent bedding from spilling out. Despite these issues, owners love this unit and suggest creating homemade side walls/barriers out of material like Plexiglass.
Features
Material: Iron wire and solid cedar wood
Water-based paint finishing
Overall outer dimensions: 36" long x 20" wide x 30 high
Hutch dimensions: 19" long, 12" wide x 22" high
Weight: 33.1 pounds
Includes removable tray
30-day return policy/warranty