Pelonis may not be a name many consumers are familiar with, but they managed to crack our list with an excellent fan. While it doesn't have a fancy moniker or dozens of speeds, this tower fan won't let you down on those hot summer days.
This tower fan from Pelonis is stylish with a modern look. The backside is clean and rounded while the front is ridged from top to bottom.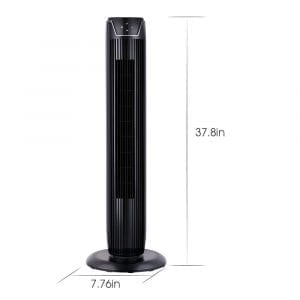 The actual vents don't extend that far however so don't count on 36-inches of venting. The fan is 5.7-inches in diameter with a wide, sturdy base and weighs 7.7 pounds.
Given its dimensions, it's definitely in the slim class.
Whether you're trying to cool a room off during a 90-degree summer or just want to lower the temperature why you sleep, Pelonis has you covered.
The fan has 60-degree oscillation with 3-speed settings to go along with three modes normal, natural and sleep.
As you'd expect, you'll get a small remote control although we're pleased to say the onboard controls are top-notch on this one.
How Bright Are The Lights?
Two things that can ruin a good fan are noise and those cool, but sometimes annoying LED lights.
Most fans have at least a few lights on the body, and one can be enough to keep you awake at night if it's too bright. This tower fan does not have a dimming feature, but you don't need it.
Whenever you change a setting, the LED shuts itself off within 30-seconds.
The onboard controls for this unit sit on top while the LEDs are on the front. Overall it's simple to use or tote around considering it's only around 7 pounds.
There is a small storage spot in the back you can use for a handle or to store the remote as well.  Last but not least is the timer, which you can set for up to 7 hours to keep you cool day or night.
The Pelonis Tower Fan is simple but effective and a nice alternative to other brands. We couldn't find any information on its CFM rating or even an online product manual, but it comes with a standard 1-year warranty.
Features
Three speeds
60-degree oscillation
Remote control
7-hour timer