This ice chest is really good when it comes to insulation--it can last up to ten days (according to the manufacturer).
It has 2-inch polyurethane insulation, making it really good for prolonged outdoor periods.
In addition to this…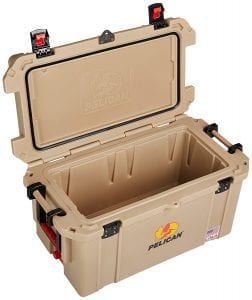 The Pelican ProGear 45 is really easy to use. It has press-and-pull latches, which are large and suitable for gloved use.
There are two types of handles, both molded-in and hinged, so you can make your own pick. This dual handle system is something most users praise.
It also doesn't skid, because it has non-skid feet.
Did we mention it's corrosion-resistant. The build is solid and the ice chest is definitely durable, so no problems there.
What else?
There is a sloped drain, and a tethered drain plug (always great to have).
It's also bear-proof certified. And, for all of you fishing lovers out there, there is a molded-in fish scale on the lid.
Now, what are the problems?
Well, the biggest one is definitely portability, because the Pelican ProGear 45 is really heavy (35.9 pounds).
Unlike some other types of Pelican ice chests, this one doesn't have wheels. Unfortunately, this is a bit of a problem, because it takes at least two adults to carry the ice chest around.
When it's empty, one person definitely can carry it, but when full – don't even try it.
Most of the users we contacted think this ice chest is really, really heavy, and point it out as the biggest issue.
Also, many of them complained about the ice chest leaking, especially during transport.
And finally…
In extreme heat, it appears it can't retain ice longer than 3-4 days, which makes the whole 10-day ice retention claim a bit confusing. We're not sure whether it can really do that…
What's clear is the Pelican ProGear 45 will retain ice for shorter periods of time, and it has a really good build. There may be minor issues with leaking but, overall, it's of acceptable quality.
Features
29.7 x 20 x 19.2 inches; 35.9 pounds
dual handle system
non-skid feet
molded-in fish scale on lid
sloped drain
tethered drain plug