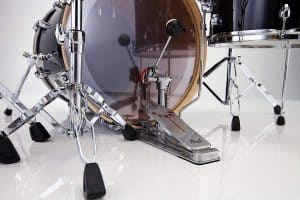 Buying actual gear as a gift for a drummer can be tricky. The style, size, and material of the drums and cymbals is often a very personal choice, and most players will want to try them out before they buy to make sure they complement the other pieces of their kit. Hardware can be a better way to go. The choice for these pieces is usually more practically-motivated than sonically-motivated, and they also tend to be more versatile, working with a variety of different equipment brands, types, and sizes, so you don't need to know exactly what kind of gear the recipient has for them to be able to use it.
A drum pedal, like the Pearl Demonator linked to here, can make an excellent gift for a drummer who's moving up to the intermediate level and wants to upgrade their bass drum capabilities. It's a single-chain driven pedal with a Demon-style powershifter and an interchangeable cam—terms that will probably make a lot more sense to the drummer you're giving it to than they do to you. All you need to know is that it has smooth, quick action that makes it easy to keep up with even fast-paced beats.
The tension on this pedal is adjustable, as is the angle of the beater. This is great if you're giving it as a gift since it means the player can tweak the pedal to suit their style, making it a more versatile choice—especially if you're not a drummer yourself and not sure of the technical terminology. The beater is also double-sided, which gives the pedal more tonal options for different playing styles and approaches.
Maybe the best part about this pedal is how easy it is to use—both when you're talking about setting it up with the kit, and in terms of its smooth motion. This makes it a great gift for drummers of all experience levels, letting them quickly step up their bass drum game.
Features:
Drive system: single chain
Cam: Perfect Circle, with removable Eliminator Eccentric cam
Beater: Dual surface with core control