Though you'll see the Park Tool Ratcheting Click Type Torque Wrench described as a good resource for the mechanic, this model is best suited to lower torque settings that are more appropriate to proper seat post, seat clamp, handlebar, and stem applications.
Design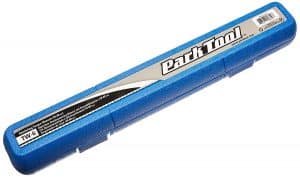 Ergonomically designed, it has been created for easy use by both left and right-handed people. It has a dial adjust system to allow for easy torque presets and works with the Newton meter range. It incorporates a conversion scale on the body of the tool and is in a bold blue and black design making it easy to see in any conditions.
Features a 1/4" drive but comes with a handy 3/8" adapter.
Materials
Made of a blend of materials, it features a nonslip plastic handle, steel shaft, and components.
Accuracy
Calibrated to be accurate to 4% or better, it is adjustable to 0.4 Nm increments.
Warranty
Limited lifetime warranty applies to any Park brand tools. Should the product fail to perform its intended purpose or have defects, it is repaired or replaced.
Extras
Ships in its own rugged, molded carrying or storage case.