You'll find the Panasonic NB-G110P Flash Xpress Toaster Oven a good choice for your kitchen. This compact but powerful countertop oven is designed to cook foods 40 percent faster than your traditional toaster ovens. It uses a FlashXpress double infrared light that allows foods to be cooked without preheating.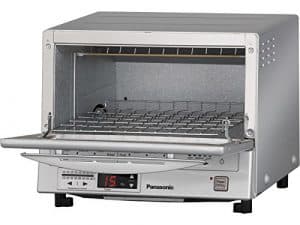 As if that's not enough
It has a ceramic element that heats up quickly, eliminating the wait time to cook. The Panasonic NB-G110P Flash Xpress Toaster Oven integrates a series of smart toaster oven presets that precisely know how long to cook your food for the optimum flavor and browning.
The countertop oven has a nonstick interior that can be easily cleaned and also features a crumb tray that can be removed and cleaned. It is very simple to operate and includes accurate temperature settings that allow you to cook at the exact heat your recipe calls for.
The downside of this countertop oven is
...its inability to fit a 12 in. frozen pizza - one of the main reasons for investing in a convection oven in the first place. It can, however, cook up to four pieces of toast at one time or a 9 in. pizza.
The exterior of the Panasonic NB-G110P Flash Xpress Toaster Oven features stainless steel, and there are additional features such as a digital timer and interior light that will come in handy as you cook.
Features:
FlashXpress double infrared light
Smart toaster functions
Pushbutton control panel
Nonstick interior
Stainless steel design
All day food options
Precise temperature control
Digital timer
Interior light