Our second connected fan comes from an unlikely source in Ozeri. The ultra is tall and relatively quiet for its size with a design in line with dozens of tower fans.
What sets it apart are the features and an interesting accessory that allows you to extend its height.
At first glance, the Ozeri Ultra looks like a regular tower fan albeit one with a pole at the base. There's a good reason for that, and it's not just for the cosmetic appeal. Before we get to that pole, we want to talk about the build quality and the onboard controls.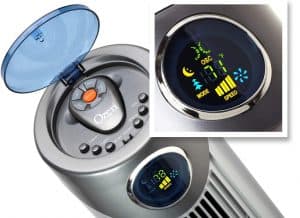 While the Ozeri Ultra isn't a bad looking fan, the company made a few odd design choices. There is a color LCD panel on the front to give you the scoop on the stats, and a full array of buttons up top that are covered by a plastic panel.
It's easy to use but feels a little cheap, and it doesn't help that it's 10 pounds which magnifies an issue with the design.
This tower fan comes with an extension pole – something you don't see every day. It allows you to extend the height from 32 to 42-inches but also makes the unit wobbly.
It's not as top heavy as some units we tested, but worth mentioning as it's more prone to tip over than models with a standard design.
Design aside, that's the only real weak point on this fan. It comes with three airflow patterns with the standard speeds and can oscillate up to 90-degrees.
Like most manufacturers, the company claims this one is "whisper quiet" but failed to provide us with a dBA rating. Well, this video tells the tale as it is quiet in sleep mode, but only average on regular settings.
Ozeri wasn't forthcoming with the tech specs on this fan, so we don't have a CFM rating to rely on this time around.
If you want to dig a little deeper into the machine, we did locate an online user's manual.
We can also tell you that it's on par with budget-friendly fans in terms of power, so don't expect to be blown away literally or figuratively. On the flip side, this particular fan is smarter than most…
Do You Own A Smartphone Or Slate?
If so, you'll appreciate the Bluetooth connectivity. This allows you to sync up any Android or iOS-enabled mobile device and control the Ultra remotely. It's a simple, but useful feature we'd like to see more of in the fan world and one that adds significant value.
Other features to note for the Ozeri Ultra include a 12-hour timer, temperature gauge, and a dimming function for that bold display.
As long as you're not overly concerned about the fan tipping over, the Ozeri Ultra is well worth a look. While not ideal around wild pets or children, it performs as expected and we love any gadget for the home with built-in Bluetooth.
It comes with a remote, extension pole, and a warranty card that's good for 1-year once you register the fan.
Features
Three speeds
90-degree oscillation
Bluetooth
Extension Pole