If you cook more than one item at a time, a dual induction cooktop is the only way to go. This portable system from Ovente certainly falls into that category, and while you'll need a little more space on your countertop, you won't be disappointed by what it can do.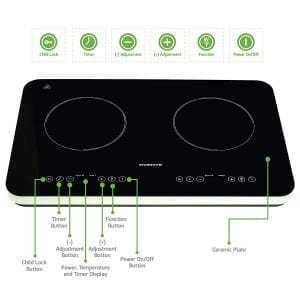 The Ovente BG62B is a stylish induction cooker measuring 11 x 13.8 x 2.5-inches with a weight of 5.5 pounds. Obviously, it's larger than a single zone system, but it's easy to move around and can still fit in a cabinet or cubby when not in use. The slick ceramic surface is easy to clean, and we love the control scheme. Everything is easy to access and a good distance from the heat zones.
How safe is it?
The size may lead you to believe this cooker gets hotter than the rest, but that's not the case. The Ovente Double Induction Cooktop is actually safer than most. The surface stays cool the touch, and there's a "caution" light when the cooking surface is active while you cook.
If you have kids, you'll appreciate the child lock feature and automatic pot detection. In case you're not impressed, it also has systems for diagnostic errors and in case of high or low voltage. It is certainly one of the safer models around, but quite capable considering it's an 1800 watt cooktop with temperatures from 140 to 465 degrees.
There are eight temperature levels on this cooktop in addition to five preprogrammed timer levels ranging from 1 minute to a maximum of hours. The company promises you won't encounter any cold spots on their cooktop and it's quieter than other models in this class as well. We couldn't find a good in-hand review to check the noise levels, but you can get a better look at it in action during this promotional video…
In our research, we didn't come across any real negatives with the Ovente Double which is rare although there are a few things to note. It doesn't have quite as may presets or levels as you'll find with other cooktops and it's pricey, but still one of the best dual induction systems currently available. The BG62B comes with a 1-year warranty which you need to register within 30 days. The standard product manual is included as well although this one is a breeze to read and understand.
Features
1800 watts
Low noise burner
Child lock
Diagnostic error messages