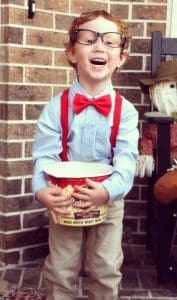 Anyone old enough to read this article has probably eaten Orville Redenbacher. It doesn't matter if you're 10-years old or 110; it's the most well-known brand on the planet. We love it, this kid loves it, and we think you'll dig it too – especially if you like to buy in bulk.  (Kid photo)
While we could spend hours talking about the man behind the kernel, Orville Redenbacher speaks for itself. It's not fancy, it's affordable and the type of popcorn that won't let you down. These kernels are also part of the Non-GMO club and produce 100% whole-grain popcorn which is free from gluten. It tastes great whether you're using the classic stovetop popper or go the hot air route.
We went with the Gourmet yellow corn, but you can pick up Orville in white as well. You're going to get a lot of bang for your buck either way as the 8-pound jugs in yellow produce over 650 cups of popcorn. There are smaller sizes if you're not quite that popcorn crazy, and you can grab a six-pack of branded buttery oil to boot.
Features