If you're looking for something modern that's easy to store and carry with you on trips, this activity center is a great choice. It's highly adjustable, and the carefully designed foldable legs allow you to easily fold the product up and take it wherever you go.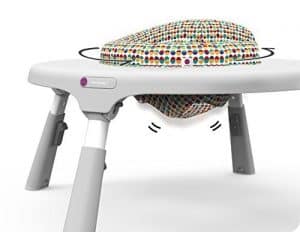 This activity center is designed for safety and comfort, which is why it's made from safe and durable materials. It also features plenty of toys which can help your baby learn and develop their motor and cognitive skills. The assembly and disassembly are easy, and the instruction manual is pretty straightforward.
But wait:
This activity center has its downsides. Namely, many users were disappointed to find that there are no musical or light-up toys on this product. This is great if you want something eye-catching and quiet, but many babies find it not stimulating enough.
Also, the seat doesn't bounce a lot, so if you're looking for a bouncing chair, choose another product instead. Basically, our research showed that this product is awesome if you need to store it or have little space in your home, but it's not as engaging as it could be. Perhaps it's a great choice for a second, travel activity center.
Features:
Dimensions: 27 x 27 x 18 inches
Weight: 13.67 pounds
Weight limitation: 25 pounds
360-degree rotating seat
Learning toys
Bouncing seat
Highly adjustable
Foldable legs
Highly foldable and portable
Safe material and design
Easy to clean
Simple to assemble and disassemble
Powered by 3 AA batteries (not included)