Most users agree this is the ultimate ice chest on the market.
What makes it so good?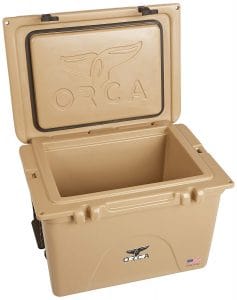 First of all, we have to mention the insulation, because it's really good. In fact, insulation is what separates the ORCA from the rest.
Most users love the fact it can retain ice longer than any other ice chest currently in offer. It easily retains ice for seven days or more.
Ready to be shocked?
Some users pointed out this ice chest kept their food and drinks fresh for ten days, which is way beyond the competition.
With its rotomolded construction and high-quality hardware, the ORCA is a fantastic ice chest for longer trips and outings.
Aside from being well made, the handles are well designed and allow a good grip.
But that isn't all:
In addition to the body and handles, the lid gasket on this ice chest is the most striking feature. It allows for the perfect seal, keeping the cool air inside and protecting your food and drinks.
And…
Thanks to its shape, the ORCA can easily be carried by one person. It offers significant space inside, but is also very easy to handle.
It's visually appealing, due to its simple design, and the draining is a breeze, because the drain plug works perfectly.
Any additional features on it?
A wonderful addition to the ORCA is the mesh pocket on the back of the body. This is ideal for storing smaller items, and many users praise this as a great little extra.
This ice chest is great as it is, so any small addition really shows you how much effort was put into designing the product.
Kudos for that.
What about complaints?
One would expect a product of this caliber doesn't have any issues. However, there are some minor ones.
The biggest user complaint is the ice chest doesn't have a lid spring. So, if you're not careful, the lid can suddenly slam shut when left open.
However, this is really a small complaint, because there is really no need to leave the lid open.
And…
There's the small issue with the mesh pocket. As we said, it's positioned on the back of the ice chest, therefore – it's not easy to reach.
You really have to make an extra effort in order to grab hold of something from the mesh pocket, or go around the ice chest.
Other than that, the ORCA is probably the best ice chest you can find. It's well-designed, nice-looking, but most of all – it "keeps cool" longer than its competitors.
And the product has a lifetime warranty.
No two ways about it.
Features
36 x 21 x 20 inches; 34 pounds
roto-molded construction
leak-proof
perfect seal
easy-grip handle
easy-flow drainage spout
mesh pocket