The most popular model in the Onix line, the Onix Graphite Z5 Paddle wins marks for its wide body and large sweet spot.
Many players–especially former tennis players, we've discovered–really like this paddle's size, shape, and feel.
Our experts agreed--it's light and well balanced. Two novice players note while this paddle's weight is great for beginners, they both have seen very advanced players use the Onix Graphite Z5 Paddle.
That gave the peace of mind knowing they know they can continue to use it as they progress.
Speaking of progress, reviewers also remark this model helps them improve their game.
Who can argue with that?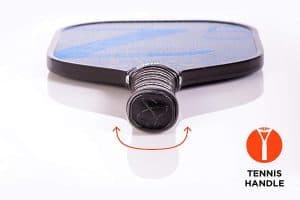 Slightly flared at the bottom and wrapped with perforated and cushioned grip tape, the Onix Graphite Z5 Paddle's grip is comfortable and appeals to tennis players.
The textured graphite surface on the paddle's face slightly grips the ball for good control and spins.
But wait, there's more...
Reviewers report the Onix Graphite Z5 Paddle is responsive on volleys and great for serves.
It's a hybrid of power and touch:
power for hard shots and groundstrokes
and feel for soft shots and dinks
The Onix Graphite Z5 Paddle also produces a good "pop".
A bit on the downside, though...
A few people think the Onix Graphite Z5 Paddle seems overpriced.
Others feel the handle is a bit short.
Finally, two buyers noted the paddle was advertised as made in the USA when they actually are made in Mexico.
To be fair, during our research we didn't find this claim. In fact, the manufacturer's website states that it's made in Mexico.
For an introduction from Steve Wong–international pickleball champion and owner of Onix Sports–watch this video.
Features