OneMix is a popular company known for making stylish and comfortable shoes at a great price. These ONEMIX Women's Air Running Shoes are a prime example. They're lightweight and comfortable, and provide excellent cushioning to your whole foot.
These multipurpose shoes can be worn while doing many activities like walking, exercising, working, etc. They're made from high-quality materials and they're quite durable.
It gets better: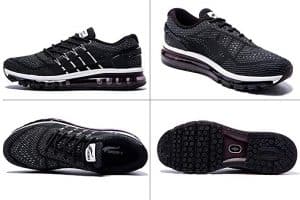 With many features that promote comfort, it's no wonder that most users are extremely happy with their ONEMIX Women's Air Running Shoes. One of the most popular features of these shoes is their sloping tongue design. It gives them a unique look while giving your foot a snug custom fit. Just be warned – the design is unusual, so if you're looking for something more plain, these are not the right choice.
The material used to make the ONEMIX Women's Air Running Shoes is breathable, and the insole is specially designed to prevent bad odors, so you can confidently take your shoes off after wearing them for a longer period. The insole also provides amazing comfort – the air cushion system offers max shock absorption, which is great for people with sensitive feet.
However,
We've found these shoes are not optimal for people who need significant arch support. If you'd still like to wear these but need arch support, simply get additional insoles like these WalkHero Plantar Fasciitis Arch Supports.
Made from high-quality premium materials, the outsoles on these shoes are slip proof and abrasion resistant, so you can wear them in all types of weather and on various terrains. Just note the toe box on these shoes is not that big, and some users complain there isn't enough toe room.
But we've found many users also mistakenly get the wrong size. To prevent that from happening, when buying OneMix shoes, consult the easy-to-use and accurate sizing chart that helps pick out the right shoes for your feet.
Features:
Fabric and synthetic
Multi-purpose
Lace-up closure
Sloping tongue
Slip-proof
Abrasion-resistant
Rubber sole
Lightweight
Flexible
Air cushion system
Memory foam deodorant insole
One pair of free socks included
Extra set of shoelaces included
Special sizing chart