OneMix has long been a brand known for their high-quality comfortable shoes, sold at a great price. These ONEMIX Men's Air Running Shoes are a great example of the type of quality we've come to expect from the company.
Unlike many other models out there, these shoes can be worn while walking, jogging, exercising, hiking, working, casually strolling around the city, or basically performing any other activity. They have a long list of features which make them amazingly flexible and comfortable.
Made from synthetic materials, these shoes are extremely durable. Most users report they can wear them for years without having to replace them. They also have a number of features which promote comfort.
Here they are: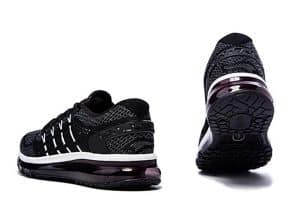 One of the most popular features of the OneMix Air Running Shoes is the unique sloping tongue design. Although some users find it makes the shoes look a bit weird, our research showed most people love the design, not just for the aesthetics, but for the comfort it provides.
These shoes feature lace-up closure, which ensures you get a custom fit. One of the major downsides, though, is that the laces that come with the shoes are flimsy and prone to ripping.
The material on these shoes is breathable, and the insole and air cushion provide amazing support and comfort all day long. The outsoles are skid-proof and abrasion resistant, so you can wear these shoes in all types of weather.
However,
We have to note one thing – we've found some users find the insoles to be too hard. People with sensitive feet should consider getting shock absorbent insoles like the Onemix Shock Absorption Insoles. They're designed for people who work all day on hard surfaces, and can be inserted into any OneMix shoes.
Another great thing our research found is the sizing chart. When buying these shoes, you're directed to a special sizing chart. People with slim feet should choose their normal sneaker size, but others are directed to a larger size. All in all, this results in the majority of people getting their optimal shoe size.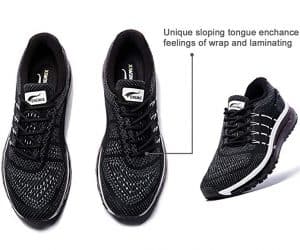 How does this fare with what users are saying about these shoes? Well, it's safe to say Jeff is impressed, especially since he claims he's giving up Nikes altogether now that he's found OneMix. As a person who loves taking long walks, he's very particular about the level of comfort his footwear provides. He says these shoes not only fit the bill when it comes to padding, but he loves how they look as well.
Of course, it's not all great:
Gary counts himself among unhappy customers of this brand, saying he's not at all satisfied with the shoes he received. His pair looked twisted upon arrival and hasn't recovered from that state ever since. Gary's experience was made even worse by the fact that the threads were somehow moved so they weren't usable at all. All this made the shoes  unwearable, which makes us wonder if Gary is ever going to order from OneMix again.
Features:
Fabric and synthetic
Multi-purpose
Lace-up closure
Sloping tongue
Skid-proof
Abrasion-resistant
Air cushion
One pair of free socks included
Extra set of shoelaces included
Special sizing chart