These Omzer HD binoculars deliver exquisite quality at a surprisingly low price, which makes them all the more attractive!
Needless to say, these binoculars are missing a lot of new and cool features that most of its high-end competitors come with.
But don't worry. We believe that the price tag of this product completely justifies what it has to offer. And might even make it your ideal choice, especially if you're on a budget.
Let's get into the details…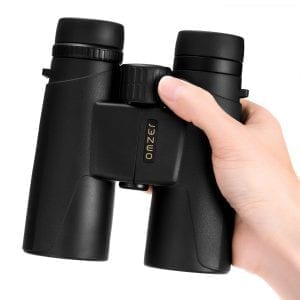 The moment you land your eyes on these night vision binoculars, you'll know why they're a favorite of so many customers. The product is super compact and snug with a classy, midnight black finish that enhances its beauty. It also comes with eyepiece covers for the lenses. Cute!
These binoculars offer 10X magnification and come with a 42mm objective lens that has a 307ft/1000yds field of view. Even though the field of view is slightly less than the industry average, we found the product to be very efficient.
The product features a high-class BAK-4 FMC prism, one of the best types of Porro prisms out there. Coupled with the multiple coating, this feature helps to produce crystal clear and crisp images.
Wait, there's more!
These binoculars are super lightweight and also come with a textured rubber coat, which makes them feel extremely comfortable in your hands. This compact product also comes with a storage/ traveling bag. Super easy to carry around!
This product comes with low-light night vision goggles that let you use it even at night.
However, be careful…
At such a low price, it's quite understandable that these binoculars are not designed to be used in complete darkness. Still, they are excellent for a daytime viewing experience.
Another downside of this product is it doesn't come with the feature to capture photos and videos like most of its competitors in the market do.
Nevertheless: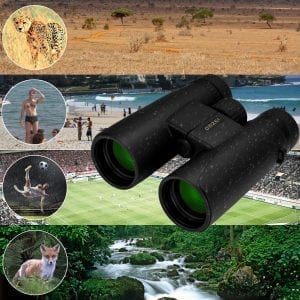 We feel this product is a great buy for someone who is a sports enthusiast, likes to watch birds in their natural habitat, and/or likes to enjoy nature in general.
The textured rubber coat of these durable binoculars makes them skid-proof, waterproof, fog-proof and shock-proof. Talk about outdoor-friendly!
No matter how tough the conditions are, you can be sure these binoculars will work just fine.
Some extra perks…
These Omzer binoculars also feature diopter adjusting, a central focusing wheel for swift adjustment, and a hang rope design to diversify the usage of the product. They also come with a neck strap and a user manual to help you get started.
How to use this little beast:
Start off by adjusting the center-focus wheel until the left eye's vision is crystal clear. Then, adjust the right eye lens until you get a clearer image. Finally, adjust the barrels to get a single top-quality image.
Features:
10X magnification, 42mm large objective lens
307ft/1000yds large field of view
Low-light night vision goggles
Top quality FMC optics: multi-coated green films lens, HD eyepiece, BAK4 prism glass
Adjustable eyepieces for users who wear glasses
Textured rubber coating
Diopter adjusting