Our second option for Oasser is far different than our first. While both are portable and easy to stow away in a car or truck, this one is perfect for two-wheeled vehicles.
It's also tougher.
It can still handle a flat on the side of the road but is more portable than its rechargeable sibling.
This compressor is in line with the Cycplus A1 from a design standpoint. It's a small cylinder a little over 7-inches long and around 2-inches wide. It has some weight as the shell is made from stainless, not plastic so it can take a bit of abuse.
We also like the fact the controls are all on the front aside from the outlet and the small, but easy to read digital display.
Plus, it's packed full of features.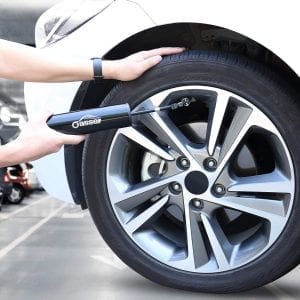 Whether you're pumping up a bike tire or need to inject some air during a roadside emergency in your SUV, you can rest easy with the Oasser portable air compressor.
You can preset the pump to hit the number you need, and the display gives values in four types of units with BAR, PSI, KPA, and Kg/cm². That's standard for this type of gauge, and we're pleased to say the backlighting is solid on this model as well.
Another perk of this pump is that it has not one, but two LED flashlights which work independently of each other.
The pressure is 150 PSI max with an air flow rate of 13 liters per minute.
As you'd expect, you can charge this one up in any vehicle with a 12V DC plug or from a wall outlet, and it will go from zero to hero in around 1.5-hours.
The Oasser portable air compressor has a 1-year warranty and a better design than other small compressors of this nature.
It's still limited to a degree but will blow up a tire or inflatables like those cool ginormous beach balls.
It comes with the usual array of accessories as well, including a storage bag, hose, dual chargers, and a few needles and nozzles for airing up various inflatables.
Features
150 max PSI
4 unit values
Dual LED flashlights
1-year warranty