Our first cordless air compressor isn't on par with the rest of the pack when it comes to power or job site performance due to its size.
What the Oasser Electric Inflator lacks in oomph, it more than makes up for in the portability department and it sports some very nifty features to as well.
At first glance, it would be easy to mistake the Oasser portable inflator for a small cordless drill or tool.
The pistol grip design doesn't scream "air compressor," but this little unit is surprisingly powerful. It can produce a max PSI of 130 which makes it an excellent fit for smaller tires and other types of inflatables.
The unit comes with attachments with a Toy Nozzle, Ball Needle, and a Presta Valve.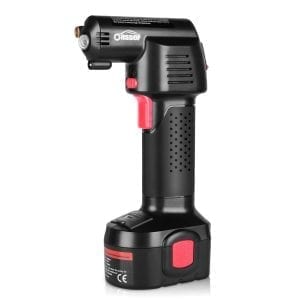 How powerful can a handheld machine be?
This portable inflator draws its power from a 2,220mAh battery pack. It's rated to refill four 185/70R14 tires, and when the battery finally dies, you can recharge it in the car or your home.
Small inflatables are no match for this one, and it can handle 25 bicycle or 10 motorcycle tires as well. We found the battery life is excellent, and the flow rate isn't bad at around 23 liters per minute.
Do you want an inflator that's easy to use?
It doesn't get any simpler than this one, thanks to a built-in LED pressure gauge. This ensures you can monitor the airflow night or day on the large display. There are three modes of measurement as well with PSI, Kg/cm², and BAR. The design itself goes a long way in the ease of use department--even if the hoses can be a little finicky at times.
With a weight of 2.7 pounds, this inflator is portable and the perfect to keep in your vehicle.
We like the LED pressure gauge and the built-in light under the hose as well. The consumers we consulted found them to work well and be a valuable feature to have.
What's really cool about this one?
You'll never have to deal with the dangers of changing tires in the dark again. The Oasser portable pump comes with a storage bag, user manual, a 4.72-inch hose, and a 13.78-inch hose along with the aforementioned valves and chargers.
Features
2200mAh rechargeable battery
Digital pressure gauge
Built-in LED light
130 max PSI
Gauge Accuracy: +0.5 PSI