Northpole is trying to secure their place in the LED Light Bars space, and they are doing an excellent job by coming up with another great product for their customers.
This Northpole LED light bar model is a great solution to your off-road expedition lighting issues. We think it's perfectly suited for all kinds of off-road vehicles including jeeps, SUVs, cars, and even farming and heavy equipment.
Let's look at the details: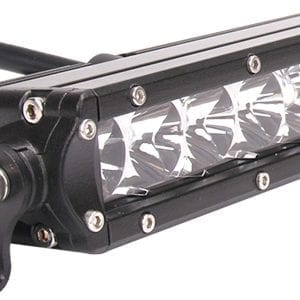 This 31-inch Single Row LED Light Bar is a flood spot combo, like many other good light bars out there. This essentially means that there will be no part of your screen where you will have visibility issues. The flood beam widens the throw of light allowing you to increase the width of your vision. If something is not directly in your path, you will still be able to see it. The spot beam focuses on whatever is in front of you, ensuring that nothing goes by undetected in your path.
The product is also IP67 rated, which means it is both waterproof and dustproof. The quality of build material is also quite impressive as the Light Bar contains black painted high-quality aluminum housing, a stainless steel adjustable mounting bracket, and shatterproof lenses built to withstand shocks and corrosions in the toughest of weather conditions.
The product has a lifespan of around 30,000 hours thanks to the inbuilt heatsinks which help in dissipating excessive heat in order to protect the LEDs from overheating.
Its DC Voltage range of 10V-30V means that it is quite versatile and power conservative and can be used with pretty much any machine. This LED Light Bar is also quite eco-friendly because of this and can be a good choice for you if you're one of those people who believe in saving energy to the extremes.
Northpole also offers a 12-month warranty on their product, so you can rest assured that if your product shows any issues within a year, they can easily be dealt with. The company also offers 24 hours customer support in case you need any help with your product.
Package Includes: 1x Northpole Light 31" 150W CREE Single Row Spot Flood Combo LED Light Bar, Adjustable Mounting Brackets, Screws Set and 12 Month Worry-free Warranty
Features:
31" 150W Spot Flood Combo LED Light Bar, 30 x 5 Watt high power CREE LEDs at 6,000K color temperature with 15000 Lumens
Tough Design: Black painted high-quality aluminum housing, stainless steel adjustable mounting bracket, and shatterproof lenses with IP67 waterproof, durable to withstand any harsh condition. Great performance of waterproof, dustproof, shockproof and anti-corrosion in extreme weather condition.
Long Lifespan: Eco-friendly low power consumption design with integral heat sink for a longer lifespan, rated at 30,000 hours.
DC 10V-30V operating voltage range: It can apply to different types of trucks, Off-road vehicles, 4x4 Jeep, SUV, Mining, Boating, Farming and Heavy Equipment etc.