Northpole has come up with another exceptional product for their customers. This 20-inch 126W Waterproof LED Light Bar is an absolutely brilliant LED Light Bar in a market full of average products.
Here is why we love it:
First of all, this NorthPole LED Light Bar is extremely portable and easy to use. It is enclosed in a die-cast aluminum casing measuring about 506mm by 80mm by 65mm and weighs only 5 pounds (about 2.3 kg.) This lightweight quality of the NorthPole LED Light Bar gives it an edge over most of the other light bars out there.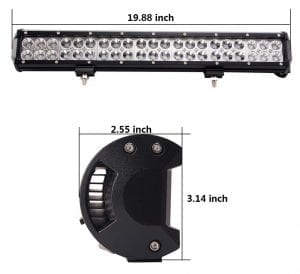 This NorthPole model also boasts of being a flood/spot combo. It has a 60-degree flood beam and a 30-degree spot beam. This disperses the light in front of you so you can see all areas of the terrain coming at you. Night time visibility is the primary aspect of any such product and this LED Light Bar delivers it perfectly with the 6000K color temperature it produces.
This light bar also boasts an IP67 waterproof rating, which means that it will not let you down even in extreme weather conditions.
The LED Light Bar consumes between 10-30V of electricity and has a power rating of 126W. It also contains a heat sink to keep the temperature of the LEDs in control and avoid overheating. It is quite power efficient, and your average NorthPole LED Light Bar will give you around 30,000 hours of brightness. It is a great product to have in terms of long-term reliability and high return for value.
What is even better about this LED Light Bar is the material it is made of. Its main ingredient is die-cast aluminum housing which ensures that the product remains safe from wear, tear, corrosions, dents, and cleavages.
NorthPole also offers excellent customer support for their products. This specific LED Light Bar comes with a 1-year warranty. If you face any trouble with your product, email NorthPole's customer support and they will get back to you within 24 hours.
However…
There is one drawback to this light bar. Although it offers amazing quality and longevity, you cannot custom set the angle, density and the direction of the light produced.
Due to the portable and versatile nature of this LED Light Bar, it can be used for a number of applications. Apart from the highway and off-road uses, this Light Bar can also be used with engineering vehicles, specialized vehicles like ambulances or fire engines, or even with boats or yachts.
Package Includes: 1x Northpole Light 126W CREE LED Light Bar, 2x 18W CREE Flood LED Work Lights, 1x Wiring harness, Mounting Brackets, Screws Set and 12 Month Worry-free Warranty
Features:
20" 126W 10500lm LED Light Bar, Combo beam with 60 degrees Flood beam and 30-degree spot beam, 6000k color temperature bring you comfortable and safe driving experience
DC 10V-30V operating voltage range: It can apply to different types of trucks, Off-road vehicles, 4x4 Jeep, SUV, Mining, Boating, Farming and Heavy Equipment, etc.
Long Lifespan: Eco-friendly low power consumption design with integral heat sink for a longer lifespan, rated at 30,000 hours.
Tough Design: Black painted high-quality aluminum housing, stainless steel adjustable mounting bracket, and shatterproof lenses with IP67 waterproof, durable to withstand any harsh condition.