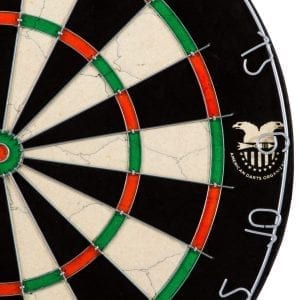 Endorsed by the American Dart Organization for tournament use, this bristle dartboard from Nodor is another great option for the bar or man cave.
Much like most professional standard bristle dartboards, the divider wiring is triangular and thin to prevent bounce outs, and is staple free, allowing maximum target area for your shots.
The Nodor Supawires 2 features a movable number ring, which allows you to move the more 'trafficked' areas of your board around, to maximize and prolong the life of the board.
In testing, we discovered the board to be sufficient in healing after removing the dart, and the sisal fibers appear quite dense.
In person, the board looks professional and has a great feel to it. The wiring was nice and thin--we rarely had any bounce outs in testing.
Specifications
Bristle dart board with dense sisal fibers
8 x 17.8 x 1.5 inches
4 pounds
Endorsed by the American Dart Organization