Manufactured by Dongguan Mingxuan Carbon Fibre Technology Co., Ltd., the Niupipo Lightweight Graphite Pickleball Paddles Set containing two paddles is perfect for starting a game between two singles players or making a doubles team.
Each paddle has a polymer honeycomb core, a graphite face, and a black edge guard.
But we're getting ahead of ourselves.
Before even entering in tournaments, beginner pickleball players would benefit from this sturdy paddle with a large sweet spot.
In fact, a couple of newcomers note advanced players (e.g., instructors and champion competitors who happen to be relatives) recommend this model.
People–including a seven-year-old and a 60+-year-old–find this paddle lightweight and easy to swing.
There's more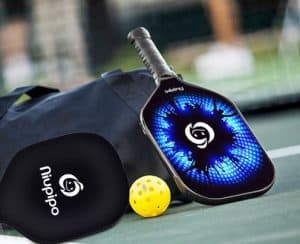 Beginner pickleball players state the Niupipo Lightweight Graphite Pickleball Paddles Set really help them improve their game and inspire them to play even more.
Speaking of playing more, an advanced player notes this model has low vibration, resulting in no user fatigue.
And more
Players praise this paddle for offering both power for long, hard shots and control for ball placement. Also, nice is the grip–cushioned with perforated and stitched wrap–which is comfortable and easy to hold securely.
Actually
The only negatives we encountered were:
a reviewer wishing for a louder "pop" when the paddle hits the ball, and
the grip being a little large for small hands.
Overall, the Niupipo Lightweight Graphite Pickleball Paddles Set was described as high-quality and earned almost unanimously positive marks from consumers and our experts alike!
Features
Set includes two paddles and two neoprene paddle covers
Grip circumference: 4 ¼"
Weight: 8.0 ounces
Paddle core: polymer honeycomb
Paddle face: graphite face
Black edge guard
Meets USAPA specifications