Could a big name in the camera industry come up with a good rangefinder?
We think yes - it's actually a wonder that there are not more video camera manufacturers moving into this scene, the technologies involved are very similar.
Right, but is this product a good one?
For the right person, yes it is.
We really liked the 8-second continuous measurement of the device - it allows you to quickly measure distances to different parts of the course - perfect for a holistic view.
Up next, we want to praise how compact this device is. Unlike most laser rangefinders, you can easily fit it in your pocket, so a big plus for a person that wants to easily carry stuff around.
In terms of overall quality…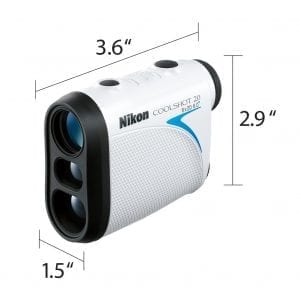 The device has a decent accuracy, range, and optics, so you should be covered. Granted, it's not as professional as a Bushnell or a Leupold, but it does its job alright. You can get a comprehensive look of its features over here.
So what's the matter with it?
First of all, this one is not well optimized to locate and measure distances to flags. You'll have a field day steering clear of bunkers or the fescue, but if you want to locate the hole, you'll have a hard time.
For some people, that's just fine, but if that's not you - look for something else.
Even more so,
The battery cap is notorious on Nikons in general, and this device is no different. Use it for a few months and you'll understand what I mean; it just doesn't secure the battery chamber well.
Saving the "best" for last,
The main issue we had with the device was functionality over 150 yards. Even if the maximum distance should be much higher than that, trying to locate anything above that distance will provide consistent and accurate numbers in most cases.
But "most cases" is not enough, so if you're keen on getting the best rangefinder, maybe look somewhere else.
Maybe there's a lot of lemons being shipped, but that in and of itself is an issue.
Features:
Laser Rangefinder
Compact build
Innovative features