If you're looking for lightweight shoes that you can stand in all day, Nikes are a great choice. The Nike Free Rn Fyknit 2017 Running Shoes are simple, no-nonsense shoes that are perfect for being on the move all day. They have a plethora of features which make them comfortable and healthy for your feet.
One of the main features of these shoes is the Flyknit material used in making them. The material itself is designed to be extremely lightweight, while simultaneously giving users a precise fit. Our research shows that wearing shoes with Flyknit technology feels like wearing a pair of socks.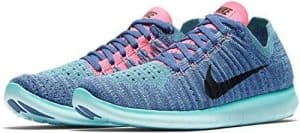 Now get this:
The whole shoe is extremely breathable, so you can wear it all day and minimize foot fatigue. The Flyknit material contours your foot and helps keep it cool. The upper in these shoes has cables that wrap around the foot and give additional support.
These shoes really do provide a snug fit, which is great for most people, but some people have reported there is little room in the toe box, and that they're a bit narrow in the front. This means if you have a wide foot or want to be able to move your toes around in the shoe, it's better to choose some other pair. But our research showed that the snug fit supports the foot and helps most people with their foot issues.
But there's more: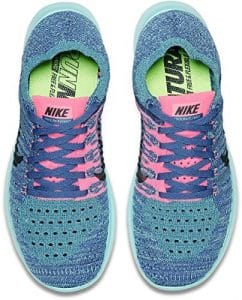 The foam insoles on these shoes provide comfort and support. For people with chronic foot issues who need additional support, there are many additional insoles you can buy. The insoles in these shoes are removable, so it's easy to replace with something like the KEEN Utility K-20 Cushion Insole.
It's easy to wear these shoes all day because of the rounded heel design which encourages natural foot strike while you're on the move. And when you're standing, the excellent cushioning will prevent your ball or heels from aching. However, our research has shown that, since they're low cut, these shoes provide little ankle support. So if you find you need something that better supports the ankle, we recommend you view some of these other higher cut shoes.
This is crazy:
The tri-star pattern on the outsoles of these shoes bends with your movements and makes them very flexible. The outsole is also reinforced with rubber under the toe and heel, which helps with traction. This means these shoes are easy to move in, and they even provide excellent grip on wet terrains.
Features:
Flyknit material
Breathable and lightweight
High-quality materials
Interesting style
Quality upper
Synthetic sole
Rounded heel
Removable foam insole
Low-profile cushioning
Tri-star outsole pattern
Enhanced areas under toe and heel
Cables in the upper