Nike tends to dominate when it comes to popular athletes wearing their products, so this shoe may seem very familiar. The Nike Zoom Cage 3 is worn by Nadal and other top pros, and while it won't get you to Wimbledon, it may very well help your game.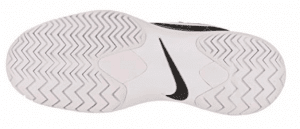 You can always count on Nike to do things a little differently when it comes to style. The Zoom Cage 3's are reminiscent of the Air Max 96 than a typical tennis shoe. The vented design gives you a bit more stability and structure than you'll find on those classics. They also lighten things up and protect the sides against slides or other impacts that would ruin a full mesh panel.
There's air in there…
One of the things that make folks flock to Nike are those cool little air pockets in their shoe. You may not be able to see it, but there is a Zoom air unit in the heel of this shoe. This gives you responsive cushioning on the court, and you'll need it as these are geared towards hard courts which can be tough on your feet.
If you're concerned about wear to the midsole, don't be as the company has zonal high abrasion patterns on the shoe to increase durability. The sole sports a herringbone pattern so you'll have plenty, and these shoes are nice and snug thanks to the full bootie design. Kurim helps in that regard as well along with an external heel clip.
The best tennis shoes for men or women should always fit well and provide an ample amount of support. The Cage 3 tennis shoes offer up a flexible support system that provides stability without compromising the weight with features like side and split heel support. They will feel great on your feet as long as the sizing is right, and we promise these shoes will get you some looks on the court as well.
Nike offers this shoe up in around 20 different colors from simple black and white combos to wilder options like lava glow and hot punch. They are sized from a 5.5 to a 15 and only available in medium – the standard D width for men.
It's a new shoe, so don't pay attention to the ratings on this one as this footwear is beloved by the pros and average Joes. The Cage 3 comes with a 2-year warranty against defects in workmanship and a six-month durability guarantee on the outsole.
Features
Caged design
External heel clip
Medial mid-foot shank
Medial mid-foot shank