Nike's Tiempo shoes were an instant hit among both fans and players all over the world as soon as they were released. They majorly became famous because of their classy design and feel in a time where other brands were mostly coming up with tacky and extravagant designs.
Here's a pro-tip…
Our research shows that the Tiempos offer very good balance to your overall game. They offer power, control, and grip of the surface. So, if you are a midfielder who likes to control the tempo of the game, you should definitely try these out!
More tasty details: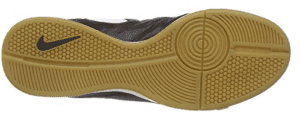 These Tiempo shoes come with a rubber sole that feels very comfortable on your feet.
However, the rubber sole can make the shoes feel a little heavier on the feet, which may compromise on your speed. But if speed is not an integral part of your game, don't worry about it!
Nike Tiempos have been endorsed by Ronaldinho, who is arguably the most stylish player in the history of the game. Other notable players who have worn the Tiempo's are Sergio Ramos, Andrea Pirlo, and Gerrard Pique.
Hold on…
During our research, we found that these shoes are quite susceptible to grains getting inside during the game. This could possibly get uncomfortable. We also found that they tend to cling to your skin if you have sweaty feet. To counter this, we feel getting a pair 0.5 size bigger is a good idea.
These leather shoes come in multiple color variants; the classy black and white with metallic gold, and pure platinum with a touch of black and hyper orange.
Features:
Genuine cow leather
Rubber sole
Full-length Phylon midsole
High density, die-cut EVA sock liner
Gum rubber outsole with pivot point