The Mercurial range by Nike is one of the most acclaimed soccer shoes line in the world. Endorsed by one of the greatest attackers in the history of the game, Cristiano Ronaldo, Nike has chosen the perfect ambassador to create a buzz for these soccer shoes.
Here's what we love about this one…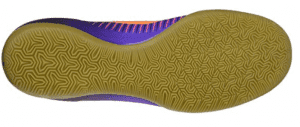 The Mercurial Victory VI shoes have a synthetic built, which makes them extremely lightweight and enables you to reach your top speed while you're wearing them.
The shoes also come with a fabric sole that makes them super breathable and comfortable to wear for longer periods throughout the day.
You can also wear these shoes for casual purposes. The Mercurial VI comes in several attractive colors. You can pick from more extravagant shades like purple dynasty and total crimson, or go with the all-time classic, pure platinum.
The tongue-less construction provides a perfect locked-down fit for your feet, and the rubber outsole provides a good grip on indoor surfaces.
The Mercurials also come with embossed horizontal ridges that are built to enhance your first touch.
Wait, wait...
The only downside we feel is that the shoes run a bit narrow, so if you have a wide foot, it may cause some distress to you in the beginning.
In addition to that, the price of the Mercurial is relatively higher than other competitive counterparts in the market.
Features:
Synthetic built
Fabric sole
Tongue-less construction provides a locked-down fit
Embossed horizontal ridges to enhance touch
Rubber outsole provides grip on indoor surfaces