If you're looking for a no-nonsense shoe that's affordable, light, and flexible, the Nike Flex RN 2016 is an excellent choice. Nike is known for making high-quality shoes which are comfortable and great for all sorts of purposes and these shoes are designed to be durable and functional.
Although the Nike Flex RN 2016 are designed as trainers, many people wear them for walking, hiking, casual meetups, and to work. They give your feet amazing support anytime you need to be on your feet for a longer period of time.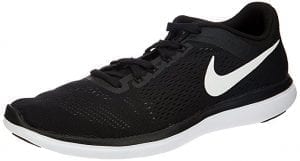 Made from an extremely light single piece mesh, the Nike Flex RN 2016 are breathable, and give you unrestricted support and security. They give your foot great arch support and a comfortable stride. The traditional lace-up closure ensures a snug fit.
Our research shows that, when it comes to flexibility, the Nike Flex RN 2016 take the lead. Its synthetic sole and decent cushioning make sure your foot is comfortable throughout the day. The engineered mesh upper also provides support and superior breathability.
But that's not the best part:
Featuring a co-molded midsole, these shoes will definitely give you a smooth ride. The midsole features Phylon foam which gives cushioning, durability, and responsiveness. Many users report that, although you wouldn't expect it, these shoes provide a great grip on wet terrain, especially concrete.
The underfoot of the Nike Flex RN 2016 features the typical Nike outsole with tri-star configurations scattered around. This gives these shoes flexibility because of the numerous cuts. The heel and toe areas are enforced with hard rubber, while the rest of the outsole is made from blown rubber.
Our research also shows that, although the Nike Flex RN 2016 give you a snug fit, the toe box is wide enough so that most people find the shoes very comfortable. However, some people with naturally wider feet might find the ball and toe part of this shoe a bit too narrow.
Also, many people find the back part of the shoe is too high. While researching this, we've found this is a typical Nike feature, and while some people find it extremely comfortable, others will find it causes chaffing on their heel.
However,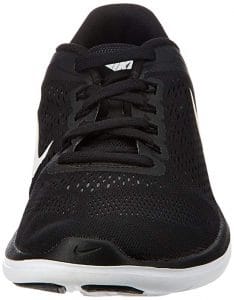 Some users that have found the heel to be too high have managed to successfully offset the problem with new insoles. The KEEN Utility K-20 Cushion Insole seem to be the most popular choice.
The last downside that we were able to find on these shoes is the outsole sometimes sucks small rocks and pebbles into the grooves, which can be a nuisance.
But let's take a look at what has been said about these shoes by people who've worn them. Nike enthusiast Scott says the first time he wore the Flex RN 2016 running shoes was at an actual marathon. He didn't think a pair of brand-new shoes wouldn't give him any trouble, but he went through the entire experience without getting a single blister. The satisfaction with these Nikes continued, as he realized they were together light and supportive.
However,
Shawn – who's worn his Nikes for over five months – hasn't had such a pleasant experience wearing them. According to him, the soles at the heel get worn out too fast. In fact, his are almost completely gone already. He adds because of this, he can't say the shoes are as comfortable as he thought they'd be.
Features:
Single piece mesh
Breathable and lightweight
High-quality materials
Good style
Mesh upper
Synthetic sole
Co-molded midsole