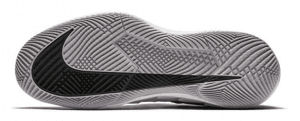 If you love Nike's lineup of shoes, but don't fancy the Swiss cheese nature of the Cage 3, we have just the thing for you. The Nike Air Zoom Vapor X is another shoe geared towards the court although it has a completely different style along with something called a Zero Distraction Upper.
Before we get to that fancy upper, we're going to talk about the outsole. This is a hard court shoe that's built for speed and control. While you can use it on other surfaces, it's not what it's made for so keep that in mind. You'll get excellent traction from herringbone pattern on the Air Zoom Vapor X, and the non-marking outsole will outlast other shoes in this range. Nike bills it as an "explosive" shoe, and we can certainly see why.
Back to the upper…
While this shoe is decked out with plenty of tech and some interesting marketing terms, we're going to talk about that upper. It's deemed "Zero Distraction" due to its minimalistic design as it's not busy like other shoes but still feels fast.  It's a one-piece mesh upper with an overlay which adds structure and also protects areas like the toe. Here's a better look at the shoe…
All the design elements flow together nicely, and if you like clean shoes with a modern look, the Zoom Vapor X is tough to beat. It's quite comfortable as well thanks to Nike's Dynamic Fit system. It essentially wraps around your foot to give you a snug fit from the arch to the laces. You can stop on a dime with these shoes, and the Zoom Air pocket in the heel will help keep you comfortable on the court.
You can scoop up the Nike Air Zoom Vapor X in a variety of hues from solar red and black to hyper crimson and cream. Despite their "Zero Distraction" tag, there are some patterns that pop in this lineup. They still don't come in narrow sizes, but you can pick up a pair for the little man in your life as they come in child sizes as well!
Features
Dynamic Fit technology
Zero distraction upper
XDR rubber outsole
TPU midfoot shank