The PLS180 is a professional tool for contractors tasked with floor laying, setting up walls, lights, cabinets and many other commercial tasks. The PLS180 Red Cross Line Laser was introduced back in 2003, so it has been on the market for quite a long time now. But don't let that fool you; this product still has the capacity to compete with new products, and is better than most models out there.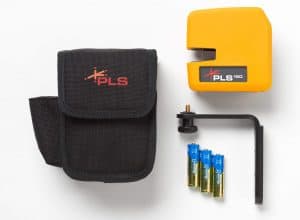 Similar to other Pacific Laser System tools, the PLS180 is a compact machine that self-levels itself and offers durable laser alignment.
The PLS180 also has the longest length of line and fan angles in the industry! It is fast, accurate and portable. This plumb, level and square laser line tool is also a great time saver.
It has a self-leveling range of 6 degrees, which is pretty great considering how old this product is. The results of the PLS180 are accurate to +/- 1/8 inch at 30 feet. It operates on 3 AA batteries and can run for more than 30 hours continuously.
Wait, there's more!
The product also comes with a three-year warranty, so if your unit gets damaged, it can easily be repaired or replaced for you without charges for either parts or labor.
When you buy the PLS180 Red Cross Line Laser Level, you also get a sturdy carrying case for ease of transport and safety of your product. For laser projection at the desired angle on a height, you get a simple wall-bracket too. You also get a PLS180 pouch, a standard operating manual, and batteries to help you get started.
It's tried and true. But…
This product is a very old tool that has been tested to last for a long period of time but has a lot of cool features. PLS is popular amongst the professionals to give out premium quality results and this model is nothing short of that. Many customers believe that the product gives out very high results and delivers exactly what it promises. Some new customers, however, have moved to latest versions available in the market that provide 360-degree angles for easy mapping of the entire room etc.
Features:
Rugged design withstands rough handling on the job site (drop tested at 1 meter)
Self-leveling, horizontal- and vertical-cross line laser level for rapid, accurate leveling and layout
Accurate to 3 mm at 10 meters (1/8 inch at 30 feet)
Includes Magnetic wall bracket for easy, stable mounting
Class 2 laser product, < 3Mw