New Balance is a company with a reputation for helping athletes achieve their goals. But other than athletes, common folk also took a liking to New Balance shoes, so now they're a staple of comfort at a low price. And the MW411v2 Walking Shoe is no exception.
Made from leather and mesh, these shoes are designed to be durable and stylish. So if you want shoes that are comfy but won't make you look like an old man, these are a good choice.
It gets better: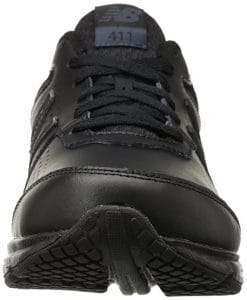 The MW411v2 Walking Shoe is also unbelievable lightweight. It's a great choice for people with knee issues, since the weight of the shoe won't put too much pressure on your joints. Also, the MW411v2 Walking Shoe has a wide toe box, which makes it perfect for people with wider feet.
However, if you have problems with flat feet, these shoes on their own are not a good choice. But if you still want to get them, the solution is to also get these Orthotic Insoles for Flat Feet. They're also great for pronation and gaining additional arch support.
But wait:
This doesn't mean these shoes don't have arch support. They also provide good cushioning and great support for the heel. The CUSH+ plush foam is 13% softer than other foams, which makes the shoe comfy without sacrificing durability. The textured rubber sole provides good traction so the shoes can be used on any terrain, and they can even be worn in light rain.
The traditional lace-up closure on the MW411v2 Walking Shoe provides a tight fit, and the IMEVA midsoles make every step light because they're shock absorbent. The leather has perforations in the upper, which makes these shoes amazingly breathable.
Here's the deal:
The only downsides we could find for the MW411v2 Walking Shoe is the sole is very flat. That can create problems if you have back issues. However, buying suitable insoles or a replacement footbed seems to solve this problem for most users.
Another thing to note is that, although these shoes are comfortable, our testing showed they're more suitable as walking shoes. Some users reported that standing in one place in these shoes sometimes becomes very uncomfortable after a few hours. So if your job requires you to stand still for hours, perhaps have a look at some other shoes on this list instead.
Features:
Leather and mesh
Lace-up closure
Rubber outsole
Perforated upper
Good traction
CUSH+ plush foam
Removable insoles
Removable footbed
Lightweight
Good cushioning
Wide toe box