Unlike many of the models on this list, New Balance is a brand that caters to athletes, which is why we had high expectations. Their shoes are supposed to provide plenty of support and just enough cushioning to keep you comfortable. Is this true? We've tried them on and here's what we've found.
These shoes have some great features, but their synthetic uppers are also worth mentioning. They're one of the reasons why the end product is so lightweight--you can barely feel it on your feet. But the real stars here are REVlite foam and ABZORB technology. REVlite foam is the material used to make midsoles for these shoes, and we've found that it provides very stable support that, again, adds to the comfort.
Now: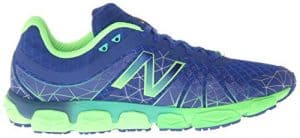 ABZORB cushioning doesn't provide support itself, but it's crucial for comfort. Its purpose is to absorb the shock from every contact with the ground your feet would otherwise absorb.
Their uppers are made from materials that make proper ventilation a reality – your feet simply don't sweat in these shoes.
We also have to mention the huge benefit of having almost no seams. As a result, these shoes are so comfortable against the skin, we came to the conclusion that they could be worn without socks. In addition, the toe box is roomier and the outsoles provide more than enough traction.
What's the bottom line?
These make for an excellent pair of shoes, especially if you put weight and comfort above all else. But we've found them faulty in two respects. Number one, choosing the right size might be difficult for those with wide feet, as with most other shoes on this list. And number two, if your plan includes running in your new shoes, keep in mind these aren't the best running shoes we've tried.
Features
One-piece synthetic uppers
REVlite foam midsoles
ABZORB cushioning
Rubber outsoles
Wider toe box