The Nesco ES-12 Extra Deep Electric Skillet is a great value and several consumers declare they'll buy a second one without hesitation.
Really, why?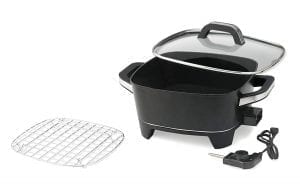 This versatile unit heats evenly and quickly with good temperature control. It cooks sausages, eggs ?, grilled cheese ?, fried chicken ?, chile rellenos, pork chops, sauces, chili, and steamed vegetables (with included rack). In fact, the rack creates a dry cooking area for baking a small batch of cookies ?, biscuits, or rolls. Unfortunately, the manual states the skillet isn't designed for deep frying.
The little engine that could ?
The Nesco ES-12 Extra Deep Electric Skillet's a "little guy" but deep with 4"-high sides that reduce splattering; it can even accommodate and roast a Purdue Oven Stuffer chicken. One reviewer recommends this model as the one "must-have" cooking device for residents with small kitchens.
Easy as pie
The nonstick surface is smooth, "works well," and makes clean-up "a snap!" Although its lid is immersible and dishwasher safe, the skillet itself isn't immersible and dishwasher safe. No worries–users suggest wiping out any excess food with a paper towel, washing the skillet with use wet, soapy towels, and wiping the soap off with a wet towel before drying it completely.
Features