No list of toys would be complete without a nerf gun, and right now this is our absolute favorite.
It's a new take on a tried and true favorite of little boys everywhere. Instead of the traditional darts, this pump action Nerf gun shoots discs.
Discs?!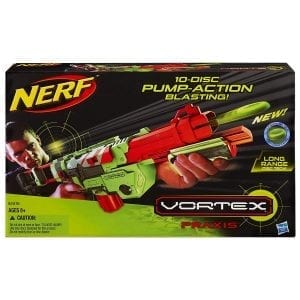 The point of these discs is to add range and speed. A heavy, spinning disc will fly a lot farther and straighter than a light dart. You can also expect less of a wind factor when shooting outdoors, since the heavier, more dynamic discs are much more persistent as well.
The discs also have the added benefit of being slightly safer. Small darts can get into eyes very easily. The bigger discs would tend to bounce off the surrounding bone before any potential injuries occur. (But you should still talk to your children about aiming guns at people).
In testing we found this gun could shoot about as fast as you could pump it. And the pump itself slides with extreme ease--something uncommon in nerf guns with this range.
The removable magazine hold ten disks. The stock is also removable, adding a variable level of range and mobility to the toy gun.
You can be sure that any kid would have a ton of fun with this product for as long as it lasts?
Well, how long will it last?
Almost all Nerf guns are made out of hard plastic. This one is no exception, but with today's technology, plastic isn't necessarily a bad material.
And the construction of this toy does seem to be quite sound. The pump slides without much wobble or sticking and all the buttons push well.
Overall, you can expect this nerf gun to last.
The discs are a great new take on nerf guns, and this is definitely something that can be played with in groups. So you should expect a lot of use out of this product, as well.
No warranty information could be found. But Hasbro products are accepted for replacement or refund sixty days after purchase if you're not satisfied. Refunds, replacements, and defective parts information can be found here.
Features
Disc projectiles
Pump action
Removable stock
Removable magazine
Tactical rail for not-included mounts