If you look for a customizable experience, look no further than the Nekteck Shiatsu Massager. With all the options, stylish design and a powerful motor, this machine is perfect for a massage nerd.
The Nekteck Massager exceeds our expectations in terms of what it offers: 8 deep-kneading heads, a heating option, modifiable speed and direction controls, and all the cords, adapters and straps you may need.
The biggest advantage of this massager is the adaptability to the desired massage experience, the powerful engine and how little it weighs (only 3 pounds!).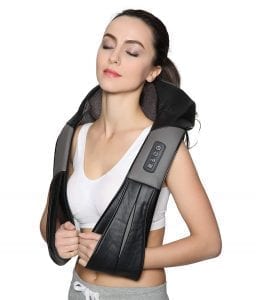 So where does it fall short?
You may find the biggest disadvantage to be the disparity between a cumbersome size and how light the product is.
Our team was really satisfied with the product! Regular tests, such as durability and basic features went as planned, but even more so, we were all pleasantly surprised by the chic and modern design this massager features.
As satisfied as this massager is aesthetically, the main feature (adaptability) is really the big plus, and we loved tinkering with each feature in part.
The people we've talked to about the product were satisfied as well, with 95% of them saying they would recommend it to a friend.
Features
8 Massage balls
Heating option
Speed Controls
Direction Controls
Versatile Design