For those who know they'll use their torque wrench for heavier duty tasks, the Neiko 03704A 3/4-Inch Drive Automatic Click Torque Wrench, 50-300 Foot-Pound | Chrome Vanadium Steel rates as the best torque wrench for wheels and more. It weighs in at a staggering 8 pounds and is 28 inches in total length.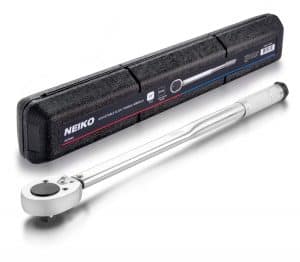 Design
Heavy duty in its overall design, it can handle from 50 to 300 foot pounds or 70-420 Nm. It uses a clutch mechanism to ensure you don't over or under tighten bolts or nuts-- eliminating the guesswork with its easy to use settings.
The no slip, knurled metal handle will offer years of service and safety.
Materials
It's manufactured of heavy duty drop forged CRV steel that's both rust and corrosion resistant.
Accuracy
You can easily set and lock your torque range with the adjustable ring. This wrench is calibrated to 4% or better in terms of accuracy and easily switches from forward to reverse.
Warranty
No information available from the manufacturer about extended warranty coverage.
Extras
Arrives in a rugged carrying or storage case that's made of plastic.