Much better than wearing a rucksack, using the Naturalico Shiatsu Massager will feel like going to school. Well, that is if you used to go to school with relaxed neck and back muscles.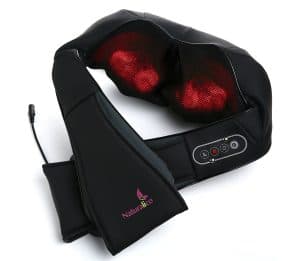 But why is that so?
At the office, we call this type of massagers the "flappy" style, because of the handles, so that is the first design feature we should state. Secondly, this massager boasts deep, powerful massage motions, with 4 nods and a functional heat option, as well as multi-directional massage modes and an auto-shutdown safety.
What we like most about the Naturalico Neck Massager is that it offers the complete neck massager experience, the fact that it has an appealing design, but most notably, the perfect combination of strong massage motion and heat therapy, all under a durable construction.
We believe, however, that the product is lacking in the versatility department, being very bulky and heavy (4.5 pounds).
The (comparably) huge build was also a complaint of our focus group, but 85 % of them said that it didn't affect the overall experience. Over 80% of them also said they would recommend it to a friend.
Our experts concluded that the advertised features work perfectly, but even more so, we think this is one of the most durable neck massagers. We went a bit rough on the machine, using it for extended periods of time and dropping it two or three more times than it was recommended.
No matter how hard we abused the Naturalico Massager, it endured and was able to work efficiently even after our hard tests.
Features
4 Rotating Knobs
Heating Function
Modern Design
Deep Kneading Technique