If you want to bring out the big guns at a family barbecue, you may want to check the Napoleon Grill out. This beast of an infrared grill just screams "heavy duty", with the size and design to back it up.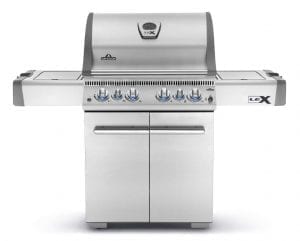 But does it stand against heavy duty testing?
Let's find out if the big design is good enough to cook a quality meal for the entire family.
The Napoleon Grill comes equipped with two ceramic burners and 4 U shaped ones. It reaches a heat of up to 74,000 BTU and has a large storage department, as well as a huge grid. These features come together to form one of the largest and heaviest duty grills on the market. Moreover, this product also supplements the infrared technology with natural gas, to ensure you cook it up till the end.
But the enormous size is also where this grill falls short.
It's cumbersome.
You need quite the spacious home to install it. If you're interested in how this grill works in real life, check this video out for a pragmatic look.
What's the bottom line?
The experts we consulted came in favor of the Naopleon Grill. In terms of infrared grills, it's definitely one of the best in the market  and our focus group agreed with ease.
However, we have to admit that our team had a bit of a hard time setting it up, which was also a complaint of the people we interviewed. Moreover, this product comes equipped with a lot of gimmicks and minor features, but seeing as they are so many, it may become confusing. In one instance, we weren't sure what controls we should use to properly smoke some pork, so take into account.
As a last reminder, since this product is extremely hard to move. We suggest grabbing a special cover with it, like this one since you won't be able to wheel under shelter to protect it from the elements.
Features
Two ceramic burners
Four U shaped burners
Reaches a heat of up to 74,000 BTU.
Large storage department
Huge grid