A lot of digital delay pedals sound fantastic, but they can't quite emulate the sound of an analog effect. If you want this old-school sound from a modern pedal, you have to check out the Carbon Copy from MXR.
The sound that comes out of it is as rich as what you'll get from a vintage pedal, and its modern circuitry makes it both more reliable and more versatile.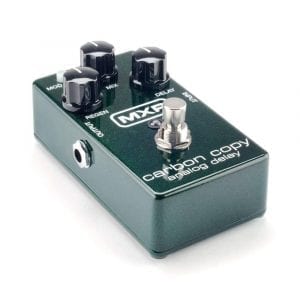 The Carbon Copy uses a clean, classic three-knob stompbox design. There are two trim pots inside the pedal for tweaking the rate and width of the effect, giving you more ways to customize the sound without cluttering the interface.
The only disadvantage of this approach is that it's harder to make on the fly adjustments, but if you typically take a more "set it and forget it" approach to your effects it's an excellent compromise.
Generally speaking, though, it's easy to use this pedal.
And to make it do what you want.
The knobs are smooth-turning and give you a nice even, gradual change, making it easy to hone in on your ideal sound. And it's that sound that really caught our attention with the MXR M169. It has a fat saturation and quick distortion that in many ways make it the ideal analog effects pedal (especially in its price point).
Features:
Dimensions: 4.75" X 2.75" X 1.25"
Control Knobs: Delay, Mix, Regeneration
Internal Pots: Width and rate control
Delay: 600ms
All-analog signal path for full, warm tone
Clean, simple interface