The Dyna Comp from MXR gives you a compression effect that's incredibly versatile. For proof, just look up the wide range of professionals that use them. The way it evens out your tone and works well with other effects makes it suitable for pretty much any genre.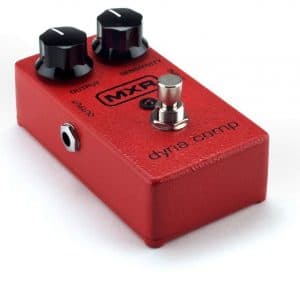 Aside from tone, the simplicity of the interface is the biggest selling point of this unit. The two knobs for output and sensitivity are clearly labeled and designed to be simple to both use and read, even in less than ideal lighting.
Here's the scoop:
The Dyna Comp is simple, small, and sounds great—everything you need in a compression pedal. Its small size and easy-read display make it a great choice for gigging professionals, especially considering its impressive versatility.
Specifications:
Power: 9V DC or battery (included)
Weight: 13.5 ounces
Dimensions: 2.5"H X 4.5"W X 5.5"D
Controls: Output (volume) and Sensitivity (compression)